May 26th, 2019
The Sixth Sunday of Easter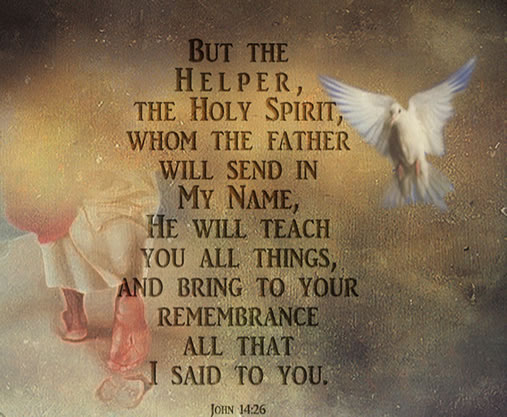 A Better World
No celebration of Easter would be complete without a reference to the peace brought to us by the Paschal mystery. Today's liturgy provides us with that reference: 'Peace' is my farewell to you, my peace is my gift to you.
Peace is what Jesus gave us in his redemptive acts of dying and rising.
The early Christian communities experienced dissension and controversy. The reading from Acts documents the manner in which the leaders of the church resolved those conflicts and brought peace to the Church.
"O God let all the nations praise you!" for you have rescued them from death and offered them the gift of peace through your resurrection.
The perfect world, we Christians believe, is beyond the horizon, in an endless eternity where God will be all in all. But a better world is here for human hands and hearts and minds to make.
For the community of faith, the risen Christ is the beginning and end of all things. For all things were created through him and all things will return to the Father through him.
It is our belief in the risen Christ which sustains us in confronting the awesome challenge of the nuclear arms race.
U.S. Bishops, The Challenge of Peace, 1983:337-39.
Now published in book form, To Love and Serve: Lectionary Based Meditations, by
Gerald Darring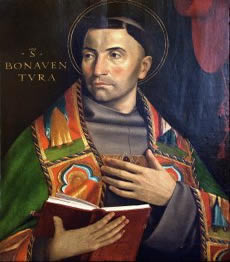 And Now, A Word from Our Patron Saint
If you learn everything except Christ, you learn nothing. If you learn nothing except Christ, you learn everything.
St. Bonaventure
And Now, A Word from Our Pastor
In the 13th century, when the Franciscan Order was young, St. Francis gathered all the friars for a general meeting. They prayed together, shared stories of their lives and ministries, gave thanks for the past and looked forward in faith to the future. (They also ate a lot!). Since then, it is the custom of the Order to gather representative friars from around the world to meet every several years – for the same reasons. On May 18, ninety-one Conventual Franciscan Friars (representing the 4000 + members of the Order) gathered in Assisi. They will, pray, share stories of their lives and ministries, give thanks, and look to the future as followers of St. Francis dedicated to serving God's people until June 17. An important portion of the meeting will be the election of the 120th successor of St. Francis to serve as the General Minister of the order. Please offer a prayer to the Holy Spirit to guide the friars in their time together. Thanks.
Congratulations to Gregory Cifelli, our organist and Sandra Jee who will celebrate the Sacrament of Marriage on June 1st. May Our Lady and St. Joseph bless them in their married life.
St. Bonaventure's Ministry with Maturing Adults
Upcoming Events

Exciting Workshop
You are invited to attend an exciting Workshop at St. Bonaventure Parish on Saturday, June 1st, 2019 from 9:30 am to 3:30 pm sponsored by Office of Formation for discipleship. This workshop is for all men and women in the second half of life. Guest Speaker is Robert L. Weber, Ph.D., M.Div. Clinical psychologist and co-author of The Spirituality of Age: A Seeker's Guide to Growing Older.The workshop will frame a vision of spirituality of Age that will serve to encourage and enhance spiritual growth not in spite of ageing, but because of ageing. Who should attend: all those who are entering the retirement years, those in retirement who want to learn more about spiritual growth in the second half of life, and those who serve and volunteer with those in the second half of life. For more information please pick-up a registration form at the back of the church, or contact Sally Amaral at samaral@archtoronto.org or 416-934-3400, ext. 518 or Maureen McDonnell,
The Summer Film and Book Club
Let's share our enjoyment of films and books. Connecting with others and enjoying community spirit with coffee and cake. Tuesdays, June 4 & 18; July 9 & 23; and August 6 & 20, from 9:30 am to 12:00 pm, mark you calendar! All are welcome – bring a friend.
Theology and Tea
The next T & T will be on Thursday, June 6th and June 20th after the 9:00 am Mass. Come and join Fr. Mark for some time to ponder and enjoy our relationship with God. The sessions are open to all parishioners and their friends.
Congratulations to the youth who are receiving the
gift of the Holy Spirit next Sunday.
May the Lord bless you and your families with an
abundance of Grace.
___________________________________________________________________________________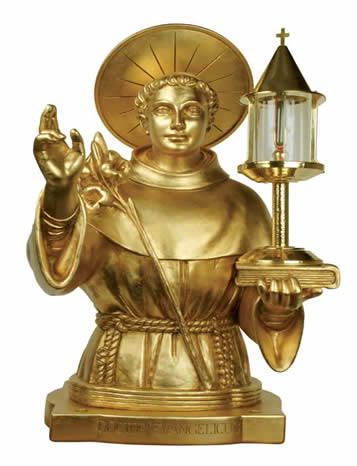 A MESSENGER OF HOPE FROM PADUA, ITALY
Over seven hundred and fifty years ago, St. Bonaventure
discovered the relics of St. Anthony. This month, one of these precious relics will be visiting Ottawa from the Saint's Basilica in Padua, Italy.
St. Anthony is often remebered as a help in times of loss. We invite you to come and ask for his intercession for more than the loss of material things, but also for those who have lost peace of mind or who have lost a sense of direction. We will pray for his help that we might truly build a just society where no one is left behind, forgotten or lost. Services will be held at the times and locations listed below.
Mississauga, ON., St. Christopher's Parish,
1171 Clarekson Road North
◊ Saturday, June 8th ◊
Veneration of the Relic: from 3:00 pm
Celebration of the Eucharist: 5:00 pm
◊ Sunday, June 9th ◊
Celebration of the Eucharist: 8:30 am,10:00 am, 12 noon
Veneration of the Relic throughout the day
Whitby, ON., Holy Family Parish, 91 Ribblesdale Drive
◊ Tuesday, June 11th ◊
Celebration of the Eucharist: 9:00 am
Veneration of the Relic throughout the day
Celebration of the Eucharist: 7:00
Toronto, ON., Franciscan Church of St. Bonaventure
1300 Leslie Street
◊ Thursday, June 13th ◊
Celebration of the Eucharist: 9:00 am
Veneration of the Relic throughout the day
Celebration of the Eucharist: 7:00 pm
Etobicoke, ON., All Saints Parish, 1415 Royal York Road
◊ Saturday, June 15th ◊
Veneration of the Relic from 2:00 pm
Celebration of the Eucharist: 5:00 pm
Veneration of the Relic: 6:00 – 7:00 pm
◊ Sunday, June 16th ◊
Celebration of the Eucharist: 8:00 am in Italian,
9:30 and 11:30 am in English
Veneration of the Relic until 1:00 pm
______________________________________________________
For more information call Anna Marziliano at 416-690-9904
____________________________________________________________________________________
World day of Prayer for Vocations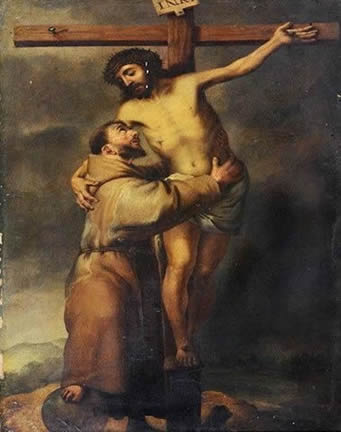 Embracing Love
A Vocation Prayer
Loving and Generous God, it is You who call us by name and ask us to follow You. Help us to grow in the Love and Service of our Church as we experience it today.
Give us the energy and courage of Your Spirit as we make all things new.
Grant us faith-filled ministers who will embrace Christ's Mission of love and justice.
Bless our faith community by raising up dedicated, generous disciples who will serve Your people as Sisters, Friars, Priests, Deacons and Lay Ministers.
Open our hearts to hear Your call and inspire us to know You better.
We ask this through Christ, our Lord. Amen
Stewardship: A Way of Living
May 19, 2019 Offertory Collections
Thank you for your generous donations.
Regular Collection ……………………… $ 8,502.00
ShareLife …….…………………………. $ 710.00
Pre-Authorized Giving ……………….. $ 2,926.00
Donate Now ……………………………… $ 328.00
Second Collections:
June 02 – Maintenance Fund
June 09 – Marygrove Camp
_____________________________________
Sixth Sunday of Easter ~ May 26, 2019
Living the Gospel by supporting isolated seniors
In the span of three months, Debbie felt she had lost everything. Her partner of 33 years died, her leg was amputated, and she could no longer care for her beloved pets. She turned to the Society of Sharing, a ShareLife-funded agency, who partnered her with a volunteer named Geoff. Not only did Geoff provide friendship, he used his teaching background to help Debbie fulfill a lifelong goal: learning how to properly read. Though it will be impossible for Debbie to regain all she has lost, her life is feeling full again.
Next Sunday, June 2nd is the next ShareLife Sunday
Please give generously.
______________________________________________________________________________
______________________________________________________________________________
Please join the Friars in prayer as they mourn the passing of their brother, Fr. Firmin Finn, OFM Conv., who entered eternity on May 4, 2019.
Please join the friars in prayer as we mourn the death
of † Friar Joseph Madden, OFM Conv., who entered eternal life on April 22, 2019. A native of Massachusetts, Fr. Joe made his Franciscan vows in 1957; he was ordained a friar-priest in 1962. Fr. Joe lived a rich life of Franciscan fraternity and ministry as a parish priest, mentor for friars in training, teacher and hospital chaplain in the United States, in Costa Rica, and 12 years in Canada, during which time he was our pastor here at St. Bonaventure. We will miss his bright smile, gentle ways, and generous spirit. Eternal rest grant to Fr. Joseph, O Lord. Let perpetual light shine upon him.
_______________________________________________________________________________
† Friar David G. Suckling, OFM Conv.
Friar David G. Suckling, OFM Conv., was born in Toronto on May 3, 1932 and away on March 31, 2019. He was the son of the late Geoffrey and Margaret (nee Kirk) Suckling. Friar David was a beloved brother his Franciscan Family and father to his children: Chris (Hermie), Sara Cornfield (Alan), Donald MacDonald (Zoe), Molly Srebot (Mike), Michelle Newman (Bruce) and †Vivienne Brown. He is remembered by his grandchildren Stephanie (David), Nadia (Sam), Danielle (Adam), David, Kyle (Steph), Miles, Piers, Rowan, Berit, Connor, Tamsin, Tallis, Jason (Sharon), Tammy, Jamie, Katie, Emily, Rebecca, Tiffany (George) and Miranda (Jeff). Fr. David will be greatly missed by his grandchildren and great-great grandchildren.
Friar David served in the Army Reserved from 1960-61. He and his wife †Margaret Mary Suckling, who died in 1990, raised their family on their farm. Having lived as a Secular Franciscan, the notion of a further call into the Franciscan way of life filled his heart. On August 13, 1995, Friar David made his Profession of Temporary Vows. And on September 20, 1998 he made his Profession of Solemn Vows as a Franciscan Friar. Friar David lived in the Friaries of St. Anthony and St. Bonaventure in Toronto. We remember him as a gentle minister in our parish of St. Bonaventure and beloved fatherly presence in the Catholic School of St. Bonaventure. He served as a Member of the Boards of the Messenger of St. Anthony, the Tobias House: Caring in the Spirit of St. Francis, Retired Religious of the Archdiocese of Toronto at the Houses of providence and The Friends of St. Francis: St. Clare Inn. We thank God for the gift of knowing Friar David. We will miss his warm smile and Franciscan spirit. May the Angels lead him into Paradise.
_______________________________________________________________________________________
†Friar Canice Connors, OFM Conv.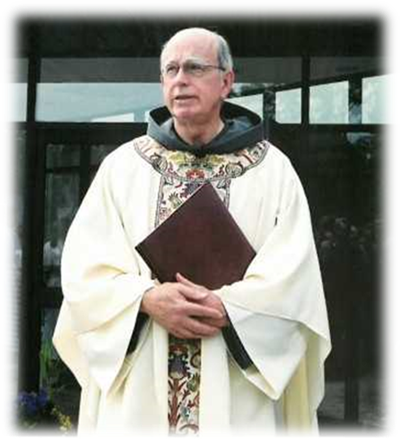 Born on December 3, 1934 in Hazelton, PA, Fr. Canice entered the Franciscan Friars Conventual in 1954 and made his vows as a friar on August 15, 1955. Fr. Canice was ordained to the priesthood on May 27, 1961. After receiving an MA in philosophy from The Catholic University of America, he pursued an MA in psychology from the University of Ottawa. Fr. Canice dedicated many years to the education and formation of young people as headmaster of Canevin High School in Pittsburgh, PA. In 1971 he was awarded a PhD in psychology.
Fr. Canice continued to serve God's People as a member of the Archdiocesan Chancery of Baltimore, MD. Blending remarkable expertise with deep compassion, he served as Director of Southdown Institute in Holland Landing, Ontario and St. Luke's Institute in Silver Spring, MD. Fr. Canice shared his years of experience as a friar-priest with seminarians when he was Rector of St. Anthony-on-Hudson Seminary in Rensselaer, NY.
In 1997 Fr. Canice received the President's Award of the National Federation of Priests Councils in acknowledgement of his service to the Gospel of Jesus. He served his brothers in the Franciscan order as Minister Provincial of The Immaculate Conception Province, leading the friars in lives of community and ministry. He served other fellow religious as a member of the Board of Directors, Vice-President and President of the Conference of Major Superiors of Men.
As pastor, Fr. Canice led the Parish of Our Lady of Mercy in Winston-Salem, NC. He also was the Rector and Pastor of the Franciscan Church of the Assumption in Syracuse, NY.
In 2008, our friend, Fr. Canice, came to us as a member of St. Bonaventure Friary, Toronto. We remember him as a man of great spiritual stature, preaching the Word of God with depth and wisdom. His "Theology and Tea" sessions sparked wonderful discussions as he led us in exploring our call to practical holiness and generous service. Fr. Canice was father, brother and friend to us.
When his health declined, Fr. Canice moved to Mercy Nursing Facility, Lackawanna, NY, where he continued to minister the Sacraments to his fellow residents until Sister Death called him home on March 17, 2019. He was laid to rest in St. Stanislaus Cemetery, Buffalo, NY.
MAY HEAVEN BE HIS AND MAY PEACE BE OURS.
______________________________________________________________________