And Now a Word From Our Pastor
UPDATE- August 02, 2020
Praised be Jesus Christ. Now and forever. Amen.
Welcome to August. Where did April, May, June and July go?
A man was standing on one bank of a river, needing to cross over to the other side. The river was too big just to step across with one stride, but there were stones spaced between the two banks of the river he could use one by one. Keeping one foot firmly on the bank he stepped onto the first stone and stayed there for a while. He lifted his foot off the stone and placed it on the next stone, but kept his first foot back on the bank. Things got a bit difficult. When he still kept his foot on the bank and stretched to the third stone, he fell in the river.
If he had just kept both feet on the same stone at the same time, he would have reached the other bank ok. But with one foot moving from stone to stone while keeping the other foot back on the shore, it didn't work.
That might be a metaphor for what we're doing- here in Canada and around the world. We're moving from one bank of the river toward the other, stopping at various stones they call phases. We're hoping for the day when the crossing will be complete, but are fairly sure that life on the other bank will be different than in the past on the other bank. We need to watch what we're doing. Both feet need to be in the place we find ourselves right now with this pandemic- showing some progress, but still in a pandemic. We need to accept that and give ourselves to
what we need to be doing and what we need not to be doing on each stone/step. And we are.
Right now, restaurants, bars, movie theaters, gyms are opening with restrictions. If you noticed, the announcements of this Phase Three are couched in nuance. It's not that in Toronto "we've made a breakthrough, it's ok now." It's more "we're trying this out to see how it works." And we need to work with the reality.
So: Restaurants- I won't be cooking any meals tonight; bars- I won't be mixing any drinks; movies- there won't be any films shown. And gym? You can be sure I won't be lifting any weights.
Phase 3 still requires social distancing- everybody 2 metres away from anybody else. Our Mass schedule and Mass arrangements will remain as they are in order to abide by this requirement. Masks will still be worn. Registration to come to Mass will still be required. Two reasons for this: if someone who has been at Mass should test positive, we have a record and a way of getting in touch with others who have been at that Mass; and we need to know how many people are coming and in what arrangements (a family of three, a single person, etc) so chairs can be set up exactly as needed and people can proceed right to their places.
Regarding Mass- there is no obligation to attend Sunday Mass. In a time like this, we are automatically excused, and to ease
our consciences, Cardinal Collins has issued a dispensation. A quote from St. Francis de Sales is appropriate here: "Be at peace and put aside all anxious thoughts about this." We will continue to televise Mass.
Our office staff needs to be on a staggered schedule for safety sake and we will continue to serve you. We are never all in the office at the same time; and there are times when none of us are there. If there is something for which you would normally just come to the office, please call first. We can then work out a way to respond as we have been doing. This so that you don't make a wasted trip and so that the staff can limit direct contacts (remember, there are a few of us and a lot of you!)
When people ask: "How are you doing, Friar." I respond "Tired." And you are too. It is tiring to have to do all the things we need to do and refrain from doing the things that are risky for such a long time. But that's the stone we're standing on in the middle of this river. We are careful not to keep one foot planted in yesterday as we make the crossing. It is slow, it is tedious, and to keep our balance- ours and others' safety- we need to have both feet on the stone we find ourselves today.
The very good thing about that is: God is standing with us on that very stone we find ourselves today. That is the only place we can seek Him, the only place we can find Him; not in yesterday remembered or tomorrow hoped for, but in the reality of today. Thank you for your example in doing that.
I and our staff are humbled by and grateful for the charity you show for others, the hope you hold on to, and the faith that keeps you grounded. We are all standing on the same stone, together and with God. Your goodness, your continued support in prayer, donations, and wonderful cooperation are fostering unity and safety. But that doesn't surprise me. The People of God of St. Bonaventure Parish have always been people of wisdom, prudence, and love for God and each other.
Mary, Virgin Most Prudent, Pray for Us.
Thank You and God bless. We keep one another in prayer.
With love and a prayer
Fr. Dennis
August 6 and 7 mark the 75th anniversaries of the bombing of Hiroshima and Nagasaki. Pope Francis asks us: "How can we speak of peace even as we build terrifying new weapons of war. As we remember those who perished and those who live with the memories of those days, we ask God to guide our steps into the way of peace (Gospel of Luke 1, 79).

On Aug 6 at 7PM the Hiroshima-Nagasaki Day Coalition will sponsor an online gathering featuring Setsuko Nakamura Thurlow, a survivor awarded the Nobel Peal Prize.
Click the highlighted text below to reserve free tickets for the Hiroshima Nagasaki Day Coalition's online event on the evening of 6 August: 75 Years: Canada, Nuclear Weapons & the UN BAN Treaty (via Eventbrite)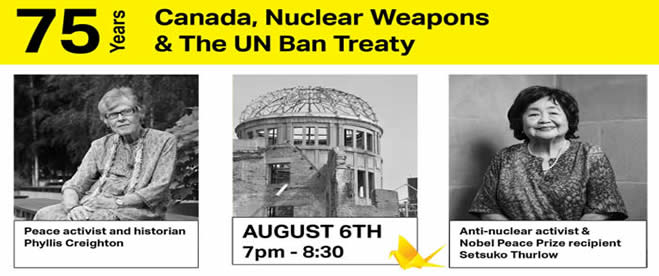 To reserve your tickets on Event Brite, click on the links below:
For Daily Masses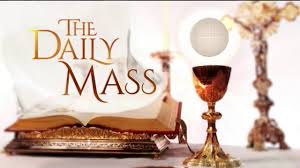 For Sunday Masses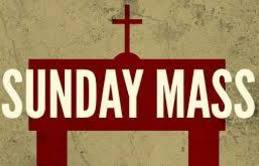 * Click on the orange box, Select A Date, on the right hand side
* Select which Mass you would like to attend
* Click Register and select the number of tickets
* Complete the information section with name and e-mail address
* You will receive and e-mail confirmation for your tickets.
* The schedule will be updated weekly to include Sunday Masses.
If you have trouble with the process, please e-mail: