Advisory
Update on the COVID-19 Health Emergency
We would like to share with you a reflection from Cardinal Thomas Collins, Archbishop of Toronto, related to the pandemic, sacramental restrictions and planning for a return to sacramental life. For more information and to read the Cardinal's letter, please click on the link below.
https://www.archtoronto.org/covid19/Documents/cardinalcollinslettermay820.pdf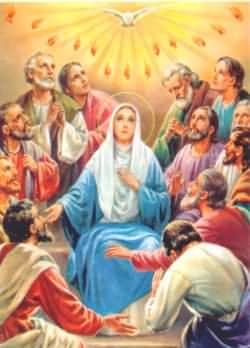 Descent of the Holy Spirit
And Now A Word From The Pastor
I once heard a priest refer to "tsunami of the Holy Spirit." He was trying to put into words his experience of the power, the pervasiveness, the unstoppable-ness of the movement of the Holy Spirit in our lives and our world. Pentecost was not a one-time event. Poured out on that 50th day in Jerusalem, the Spirit of God continues to immerse us in wave after wave after wave of the life, the love, the mercy of God. The tsunami of the Spirit lives on because the Spirit lives in us and we live in the power of the Spirit, the Lord and Giver of life. Our celebration of the Solemnity of Pentecost reminds us of the way the Spirit is always at work in us. We re-phrase our prayer to the Holy Spirit and say:
Most Holy Spirit, awaken in us an experience of Your presence and Your Power-come to us anew. Rekindle in our hearts the fiery love with which You love us.
Recreate in us the gifts of faith, hope and charity.
Renew the face of the earth with the cleansing, healing wave of your mercy.
Amen.
Please check the links for our daily Mass, Pilgrimages with Paul Bible Study, and Bonnie News for the latest information.
With love and a prayer,
Fr. Dennis
To receive a copy of the daily homily and a link to the Mass,
please email: admin@st-bonaventure.ca
To support you ...
To support our community's prayer, Give Us This Day has made available at no charge a digital file of their periodical during this health emergency. It includes daily Mass texts, as well as a simplified Morning Prayer, Evening Prayer and daily reflection.
After clicking on this link, https://giveusthisday.org/Digital , select the day of the week in the centre tab, and then select from Morning Prayer, Mass, Evening Prayer or Reflection in the tab on the right.
While it is not a replacement for our worship together, we hope this resource will support you during this challenging time. We are sincerely grateful to the publishers of Give Us This Day for their generosity by making their publication available during this challenging time.
or
Living with Christ
You can download a free Living with Christ Prayer App for either iPhone or Android smart phones to get the daily scripture readings and a wide variety of prayers.
www.livingwithchrist.ca
We may pray this Act of Spiritual Communion when we are not able
to be physically present at Mass:
My Jesus, I believe that you are present in the Most Holy Sacrament. I love you above all things, and I desire to receive you into my soul. Since I cannot at this moment receive you sacramentally, come at least spiritually into my heart. I embrace you as if you were already there and unite myself wholly to you. Never permit me to be separated from you. Amen
Participating in the Mass from Home
The faithful will be able to watch, via livestream, a Mass which will be celebrated every day at 7:30 a.m. at St. Michael's Cathedral Basilica, which will be followed by the Angelus and the Rosary. This is available online at: www.stmichaelscathedral.com/live
This Mass, Rosary and Angelus will also be available on the Archdiocese of Toronto's YouTube channel for those who cannot join at 7:30 a.m. This is available online at: www.youtube.com/user/ArchdioceseofToronto
The National Catholic Broadcasting Council Daily Mass may be viewed on:
~ the Daily TV Mass website: www.DailyTVMass.com.

~ the Vision Television Channel (see your cable provider guide and the VisionTV website www.visiontv.ca for schedule)

~ Salt & Light Catholic Media (see your cable provider guide) and also online at www.saltandlighttv.org.
This provides an opportunity to unite in prayer with the elderly, with parishioners unable to leave their homes, with those in long-term care facilities and hospitals, and to pray for our health-care professionals serving the infirm and the elderly.
News From The Society of St. Vincent de Paul
We Continue to serve. The Society of Saint Vincent de Paul is committed to helping those in need. We will provide grocery gift cards while using appropriate distancing procedures during the pandemic.
For confidential assistance, please call 416-447-5571 Ext. 570
Serving in hope.
Casseroles for the Good Shepherd Centre
Notice to Casseroles Makers:
The casserole program is currently on hold. The Good Shepherd Centre is not serving food due to the concerns surrounding the corona virus. They are providing bagged lunch instead. They are unable to pick up casseroles from the parishes. If you already made your casserole, please keep it in your freezer until further notice. For more information, please contact Eva Trace at 416-447-3040. Thank you for your continued support.
Cancelled until Further Notice:
St. Bonaventure Baseball Season
Theology and Tea with Friar Mark Steed
The Power of Forgiveness with Ginny Doty
Ministry with Maturing Adults
Nurturing our Spirituality in the Second Half of Life
Future dates will be announced.
______________________________________________________
Ministry for Maturing Adults News
Upcoming Events
In light of the current pandemic, our office has decided to postpone the in-person Ministry with Maturing Adults Workshop until Saturday, June 5, 2021. To celebrate this year's Seniors Month, we are pleased to announce that we will be offering a virtual event for the Ministry with Maturing Adults on Saturday, June 6, 2020. This is a free event.
Ministry with Maturing Adults WEBINAR
Included a presentation by Sr. Janet Schaeffler, OP on 'The Gifts and Challenges of these Unprecendented Times'.
Wondering questions and faith-filled courage, anxious worries, and expectant hope, fill our hearts. As mature adults, women and men of wisdom and life experiences, how do we live in these uncertain times so that we're not just surviving but, immersed in God's strength, we're thriving and deepening? This webinar will give us time to virtually gather with others for reflection, thoughts, and suggestions for living the challenges and the gifts of this place where we'd rather not be.
All men and women in the second half of life (50+), including volunteers, parish leaders, parish staff and priests are welcome to join this webinar. Click on the link to register: Register for Webinar

Due to the concerns surrounding the Corona virus, we at St. Clare Inn have decided to postpone our 'Bubbles and Bow Ties Gala' until the Fall to ensure the safety and enjoyment of our guests.
Future date will be announced.
Any questions regarding the event, please call at 416-690-0330 or info@stclareinn.org.
__________________________________________________________
Catholic Women's League's St. Michael's Scholarship
This year we are facing many challenges that were certainly not in anyone's plans. The Covid-19 pandemic has resulted in various unforeseen changes for us all.
Please be advised that the original deadline for the St. Michael's Scholarship applications which was May 31, 2020, has been extended to July 30, 2020.
This is a generous scholarship of $3,000 which is available to a young woman who is enrolling in the University of Toronto, St. Michael's College this fall and a significant benefit to help defray costs.
All updated forms and announcement are available at the CWL website: www.cwltoronto.ca>resources>reference documents
____________________________________________________________________________
The Annual Knights of Columbus Ontario Charities lottery draw for May 29, 2020 has been changed due to the COVID 19 virus. The new date for the draw will be at 10 am, Friday, October 30, 2020. All other information on your ticket remains the same.
The Friars will celebrate Mass privately every day for the intentions of the parishioners.
The church and the office will be closed during the health emergency.
416.447.5571
Office Hours
Monday: Closed
Tuesday: Closed
Wednesday: Closed Thursday: Closed
Friday: Closed
Saturday: Closed
Sunday: Closed

Pastor:
Fr. Dennis J. Mason, OFM Conv.
Associate pastor:
Fr. Peter Knaapen, OFM Conv.
Parish Manager:
Connie Durante
Lay Pastoral Associate:
Gregory Beath
Minister with Maturing Adults:
Maureen McDonnell
Pastoral Assistant:
Nimfa Chua
Deacon:
Rev. Mr. Sal Badali
In case of a life and death situation, call the Friars
at 416-441-0932.
St. Clare Inn Office
1320 Leslie Street,Ste.200
Toronto ON M3C 2K9
416.690.0330
Franciscan Ministries
1320 Leslie Street, Ste. 200
Toronto ON M3C 2K9
416.690.5611
St. Anthony of Padua
Mission Aid
1320 Leslie Street, Suite 100
Toronto ON M3C 2K9
416.690.9904