July 14, 2019
Fifteenth Sunday in Ordinary Time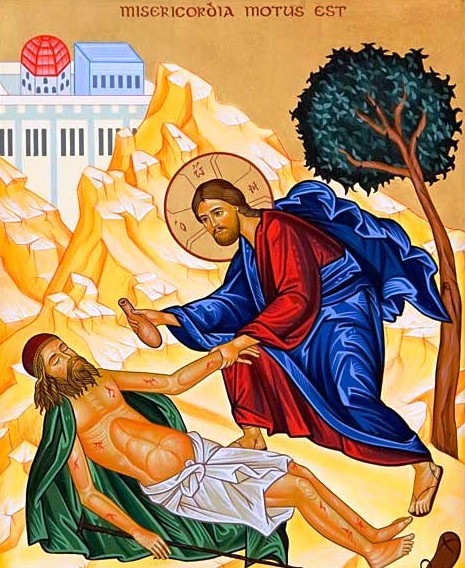 At one of his General Audiences Pope Francis reflected on the Good Samaritan. Which is the neighbour, the one in need or the one showing compassion to the one in need?
Love, the Lord tells us, is never abstract or distant; it "sees", and it responds. The compassion shown by the Samaritan is an image of the infinite mercy of God, who always sees our needs and draws near to us in love. The command to love God and neighbour, then, is supremely practical; it entails caring for others even to the point of personal sacrifice.
By the end of the parable, we see that the "neighbour" is not so much the man in need, but rather the one who responded to that need with compassion. Jesus tells all of us to be neighbours in this sense: "Go and do likewise." He Himself is the model of the Good Samaritan; by imitating His love and compassion, we show ourselves truly to be His followers.
Pope Francis: A True Christian Must be Like a Lamb, Feb. 17, 2014
Copyright©2019, Anne M. Osdieck. All rights reserved. Permission is granted to reproduce for parish use.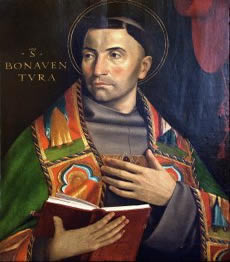 And Now, A Word from Our Patron Saint
In God alone is true joy and in all our joys it is this joy in God that we are seeking.
St. Bonaventure
And Now, A Word from Our Pastor
To mark his Feast Day (July 15), we've brought our statue of St. Bonaventure from its usual home in the Blessed Sacrament chapel to the front of our church. Sacred art – called iconography – is rich in symbolism. Our St. Bonaventure is dressed not in an elaborate vestment but in the simple habit of a Franciscan Friar. The habit is a reminder that throughout his life, St. Bonaventure was a friar who lived simply and served other Franciscans as a teacher and as leader of the Franciscan order. The tunic (robe) of the habit is covered by a short cape (capuche) worn over the shoulders; it represents Jesus' words: "Take my yoke upon yourself and learn from Me." The cord which encircles the waist bears three knots symbolizing the vows of a friar: obedience (to listen for the will of God), poverty (to claim nothing as his own) and chastity (to focus his heart to God). The rosary attached to the cord calls to mind St. Bonaventure's devotion to Mary, the Mother of God. The cross on the rosary is a reminder of the central place that the Cross-symbol of God's love – had in St. Bonaventure's spiritual life. The statue's unusual hat (called a galero) was worn by cardinal's in years past. On the statue, it represents St. Bonaventure's service to the Church. St. Bonaventure's hands hold a book symbolizing the many works he composed, and which continue to inspire the spirituality of the Friars. His most famous book- The Journey of the Mind into God- is a masterpiece showing that union with God in this life and the next is the goal of all prayer and study.
Who would have thought you could pack so much into a simple statue?
Happy St. Bonaventure Day!
In honour and celebration of the Feast Day of St. Bonaventure the Ministry Centre is closed on Monday, July 15, 2019.
St. Bonaventure's Ministry with Maturing Adults
Upcoming Events

SUMMER FILM AND BOOK GATHERINGS
Tuesday, July 23rd, 9:30 am to 12:00 pm
Francis Room with coffee and treats
All are invited to attend the showing of the wonderful and deeply moving documentary "Won't You Be My Neighbour?" Please bring your summer guests, and neighbours who would enjoy this excellent exploration of the loving kindness of Fred Rogers "an unassuming minister, puppeteer, writer and producer of his beloved television program, Mister Rogers' Neighbourhood." This children's show ran for over thirty years and managed to stay relevant to a wide range of topics and cultural changes that swept across the America landscape.
For more information please contact Maureen McDonnell, 416-4475571 ext. 550 or maureen@st-bonaventure.ca
___________________________________________________________________________________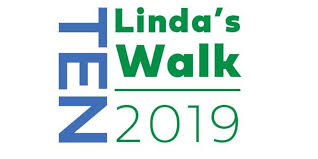 It's just around the corner! We hope you're getting ready to walk the walk because our 10th Annual 5 Km Linda's Walk is on Saturday, August 17th, 2019. So! Please save the date, mark your calendars, and register now for the walk! Registration is available online at www.stclareinn.org or at 416-690-0330. We hope to see you there! Thank you.
____________________________________________________________________________________
Toronto Botanical Gardens, Parking Update
Toronto Botanical Garden launched a paid parking program in the lot adjacent to the gardens. This started on July 3, 2019. If you park at the gardens, please be aware that you will be ticketed if you haven't paid. The fee for parking in the lot is $2.50 per hour. Paid parking is enforced 24 hours per day. Overnight parking is not permitted. Payment may be made by credit card, coin or via mobile app.
There is a designated drop-off in front of the building. This may be used as a 15-minute drop off, loading zone for parents and student drop off. As long as your car is there for a short time, you will not be ticketed.
Proceeds from the parking fees will directly support the Toronto Botanical Garden, including the maintenance of the grounds and costs associated with the delivery of programs that they offer to the community. Considered becoming a TBG member. As a valued member or volunteer, you will receive complimentary parking. If you have any questions, please contact parking@torontobotanicalgarden.ca
____________________________________________________________________________________
Prayer for Vocations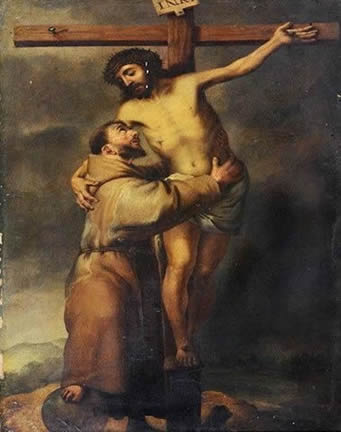 Embracing Love
A Vocation Prayer
Loving and Generous God, it is You who call us by name and ask us to follow You.
Help us to grow in the Love and Service of our Church as we experience it today.
Give us the energy and courage of Your Spirit as we make all things new.
Grant us faith-filled ministers who will embrace Christ's Mission of love and justice.
Bless our faith community by raising up dedicated, generous disciples who will serve
Your people as Sisters, Friars, Priests, Deacons and Lay Ministers.
Open our hearts to hear Your call and inspire us to know You better.
We ask this through Christ, our Lord. Amen
Vocation Seeds ~ Fifteenth Sunday in Ordinary Time~ July 14
It's a simple concept: love God with your whole being and put that love into practice. How is God calling you to love? Have you considered the way of loving called 'priesthood' or 'religious life'? If you think God is calling you to be a priest, religious or deacon, visit the website: www.vocationtoronto.ca; www.franciscans.org or speak with one of the friars.
__________________________________________________________________________
Stewardship: A Way of Living
July 7th, 2019 Offertory Collections
Thank you for your generous donations.
Regular Collection ……………………… $ 7,917.50
ShareLife ………………………………….. $ 100.00
Pre-Authorized Giving ……………….. $ 2,926.00
Donate Now ……………………………… $ 328.00
Second Collection:
11 August ~ Canadian Missions Collection
24 – 25 August ~ Mission Co-Op/COAR Peace Mission
_____________________________________
Fifteenth Sunday of Ordinary Time ~ July 14, 2019
Living the Gospel by supporting the Deaf community
Imagine you're a deaf child and your parents don't know sign language. Your parents could gesture in a rudimentary way, but how do you share your joys, fears and needs? Silent Voice, a ShareLife agency, teaches American Sign Language and Deaf culture to families so they can share a common language. "I'm so passionate about Silent Voice," says one grateful parent, "because their Family Communication Program rescues children from social isolation." Last year more than 700 Deaf people and their family members received help through Silent Voice.
The ShareLife parish campaign ends on July 31.
Please make a sacrificial gift to ShareLife
through your parish or sharelife.org
Pilgrimage to the Holy Land
September 16-27, 2019 led by Friar Dominic Lim, OFM Conv. $4,090. Arrangements by International Heritage Tours. Contact Stan at 647-463-9507.
Annual Mass for the Faithful Departed
Catholic Cemeteries and Funeral Services – Archdiocese of Toronto wishes to invite all families within the Archdiocese of Toronto to participate in the Annual Mass for the Faithful Departed on Wednesday, August 14, 2019 at 7:00 pm.
Cemetery locations and Celebrants for this year's Annual Mass are as follows:
| | |
| --- | --- |
| Locations: | Celebrants: |
| Assumption, Mississauga | Rev. John Boissonneau |
| Christ the King, Markham | Bishop Vincent Nguyen |
| Holy Cross, Thornhill | Thomas Cardinal Collins |
| Mount Hope, Toronto | Rev. Msgr. Robert Nusca |
| Queen of Heaven, Woodbridge | Rev. Bishop Robert Kasun |
| Resurrection, Whitby | Rev. Msgr. Vid Vlasic |
| St. Mary's, Barrie | Rev. Wayne Kirkpatrick |
All are Welcome!
______________________________________________________________________________
______________________________________________________________________________
Please join the Friars in prayer as they mourn the passing of their brother, Fr. Firmin Finn, OFM Conv., who entered eternity on May 4, 2019.
Please join the friars in prayer as we mourn the death
of † Friar Joseph Madden, OFM Conv., who entered eternal life on April 22, 2019. A native of Massachusetts, Fr. Joe made his Franciscan vows in 1957; he was ordained a friar-priest in 1962. Fr. Joe lived a rich life of Franciscan fraternity and ministry as a parish priest, mentor for friars in training, teacher and hospital chaplain in the United States, in Costa Rica, and 12 years in Canada, during which time he was our pastor here at St. Bonaventure. We will miss his bright smile, gentle ways, and generous spirit. Eternal rest grant to Fr. Joseph, O Lord. Let perpetual light shine upon him.
_______________________________________________________________________________
† Friar David G. Suckling, OFM Conv.
Friar David G. Suckling, OFM Conv., was born in Toronto on May 3, 1932 and away on March 31, 2019. He was the son of the late Geoffrey and Margaret (nee Kirk) Suckling. Friar David was a beloved brother his Franciscan Family and father to his children: Chris (Hermie), Sara Cornfield (Alan), Donald MacDonald (Zoe), Molly Srebot (Mike), Michelle Newman (Bruce) and †Vivienne Brown. He is remembered by his grandchildren Stephanie (David), Nadia (Sam), Danielle (Adam), David, Kyle (Steph), Miles, Piers, Rowan, Berit, Connor, Tamsin, Tallis, Jason (Sharon), Tammy, Jamie, Katie, Emily, Rebecca, Tiffany (George) and Miranda (Jeff). Fr. David will be greatly missed by his grandchildren and great-great grandchildren.
Friar David served in the Army Reserved from 1960-61. He and his wife †Margaret Mary Suckling, who died in 1990, raised their family on their farm. Having lived as a Secular Franciscan, the notion of a further call into the Franciscan way of life filled his heart. On August 13, 1995, Friar David made his Profession of Temporary Vows. And on September 20, 1998 he made his Profession of Solemn Vows as a Franciscan Friar. Friar David lived in the Friaries of St. Anthony and St. Bonaventure in Toronto. We remember him as a gentle minister in our parish of St. Bonaventure and beloved fatherly presence in the Catholic School of St. Bonaventure. He served as a Member of the Boards of the Messenger of St. Anthony, the Tobias House: Caring in the Spirit of St. Francis, Retired Religious of the Archdiocese of Toronto at the Houses of providence and The Friends of St. Francis: St. Clare Inn. We thank God for the gift of knowing Friar David. We will miss his warm smile and Franciscan spirit. May the Angels lead him into Paradise.
_______________________________________________________________________________________
†Friar Canice Connors, OFM Conv.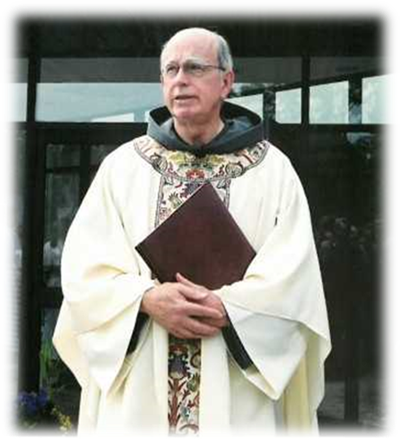 Born on December 3, 1934 in Hazelton, PA, Fr. Canice entered the Franciscan Friars Conventual in 1954 and made his vows as a friar on August 15, 1955. Fr. Canice was ordained to the priesthood on May 27, 1961. After receiving an MA in philosophy from The Catholic University of America, he pursued an MA in psychology from the University of Ottawa. Fr. Canice dedicated many years to the education and formation of young people as headmaster of Canevin High School in Pittsburgh, PA. In 1971 he was awarded a PhD in psychology.
Fr. Canice continued to serve God's People as a member of the Archdiocesan Chancery of Baltimore, MD. Blending remarkable expertise with deep compassion, he served as Director of Southdown Institute in Holland Landing, Ontario and St. Luke's Institute in Silver Spring, MD. Fr. Canice shared his years of experience as a friar-priest with seminarians when he was Rector of St. Anthony-on-Hudson Seminary in Rensselaer, NY.
In 1997 Fr. Canice received the President's Award of the National Federation of Priests Councils in acknowledgement of his service to the Gospel of Jesus. He served his brothers in the Franciscan order as Minister Provincial of The Immaculate Conception Province, leading the friars in lives of community and ministry. He served other fellow religious as a member of the Board of Directors, Vice-President and President of the Conference of Major Superiors of Men.
As pastor, Fr. Canice led the Parish of Our Lady of Mercy in Winston-Salem, NC. He also was the Rector and Pastor of the Franciscan Church of the Assumption in Syracuse, NY.
In 2008, our friend, Fr. Canice, came to us as a member of St. Bonaventure Friary, Toronto. We remember him as a man of great spiritual stature, preaching the Word of God with depth and wisdom. His "Theology and Tea" sessions sparked wonderful discussions as he led us in exploring our call to practical holiness and generous service. Fr. Canice was father, brother and friend to us.
When his health declined, Fr. Canice moved to Mercy Nursing Facility, Lackawanna, NY, where he continued to minister the Sacraments to his fellow residents until Sister Death called him home on March 17, 2019. He was laid to rest in St. Stanislaus Cemetery, Buffalo, NY.
MAY HEAVEN BE HIS AND MAY PEACE BE OURS.
______________________________________________________________________