THE FRANCISCAN CHURCH OF ST. BONAVENTURE
1300 Leslie Street, Toronto, ON., M3C 2K9
Telephone: 416-447-5571 Fax: 416-447-4082
Website: www.st-bonaventure.ca
YOU ARE ALWAYS WELCOME AT ST. BONAVENTURE
GROWING IN SPIRIT, COMMUNITY AND SERVICE
Inspired by St. Francis we seek to live and proclaim the gospel in
our daily lives, responding to the spiritual hungers of the community
and becoming an oasis of peace, prayer and service.
January 20, 2019
The Second Sunday of Ordinary Time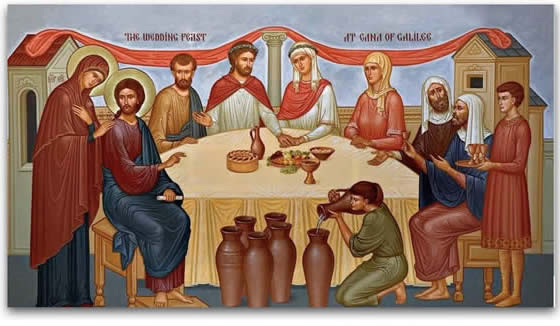 At Work in the World
Our land is indeed desolate: poisons float around in the air, toxins flow in our streams and lakes, and chemicals pollute the soil. The land is forsaken because of "the tensions and the tragedies of sin," and forsaken, too, are many of the people who live on the land. Or to put it in terms of today's Gospel, the wine has run out and the party seems to be over.
It does not have to be that way, however. The people can "be called 'My Delight,' and your 'Espoused'." There is still choice wine left to be experienced: the party does not have to end. We can "sing to the Lord a new song."
Two things will have to happen for things to change. The first is the action of the Lord. Jesus' hour has come. We must turn to him, as Mary did, and have confidence in his power to effect change. The other thing that must take place is the application of our gifts to the solution of the problems afflicting our land and the people living on it. "To each person the manifestation of the Spirit is given for the common good."
We must all use our unique gifts and unite them to the action of Jesus at work in the world. This is "the way to peace in the world" that we pray for at the beginning of Mass. If we follow this way, "no more shall men call you 'forsaken,' or your land 'desolate'."
The option for the poor embedded in the Gospel and the Church's teaching makes us aware that the poor suffer most directly from environmental decline and have the least access to relief from their suffering. Indigenous peoples die with their forests and grasslands. … Nature will truly enjoy its second spring only when humanity has compassion for its own weakest members.
U.S. Bishops, Renewing the Earth, 1991: III, F. Now in book form, To Love and Serve: Lectionary Based Meditations, by Gerald Darring
And Now, A Word from Our Pastor
Many thanks to Fr. Michael Heine, OFM Conv. for being with us and sharing the experience and needs of our Franciscan Missions. His presence was a reminder that we all share the Mission of Jesus: to bring the goodness of God to all people. Baptizing us and Confirming us in faith, Jesus has given us the privilege to preach the Gospel Good News. We do that first of all by the way we live: in unity like the Father, Son and Spirit and in service like Our Lord Who, washed feet. And we do it well here at St. Bonaventure. Thank you for your support of our Franciscan Missions and thank you for your example of the missionary spirit in the many ways you reach out to others.
St. Bonaventure's Ministry with Maturing Adults
A Spirituality for the Second Half of Life
Embracing Wholeness and Challenge
2019 Winter Program St. Bonaventure's
Ministry with Maturing Adults
Tuesday Mornings; Coffee & Treats 9:30 – 11:45 am
January 29 A Contemplative Retreat; Draw aside to meditate with Franciscan wisdom;
Friar Dennis J. Mason
February 12 Brain Health, Dementia & Alzheimer's; with Nicole Gardner, Public Education
Coordinator, Alzheimer's Society of Toronto
February 26 Story-telling! Reveals our Inner Beauty; With Gisela Cote, Ginny Doty,
Moira Mckeown, and Maureen McDonnell
March 12 Reclaiming the Christian Tradition of the Art of Dying; Exploring the work of Sister
Nula Kenny, Maureen McDonnell
March 19 Karios Blanket Exercise Workshop; "The goal is to build understanding about our
shared history as Indigenous and non-Indigenous peoples in Canada through
pre-contact, treaty making, colonization and resistance."
April 2 The Spiritual Journey; Divine Love drawing us into Prayer, Contemplative Practice and
Service; Maureen McDonnell
There is no monetary cost for this program. For more information: maureen@st-bonaventure.ca or call Maureen McDonnell at
416-447-5571 Ext. 550
2019 Winter Program St. Bonaventure's Ministry with Maturing Adults
Tuesday, January 29th, Mini-Retreat for all parishioners; 9:30 – 11:45 am in the Francis room
"Get me out of this bird bath" Wisdom for Living from Saint Francis of Assisi
Retreat Presenter: Friar Dennis J. Mason, OFM Conv.
A bird on his shoulder, a rabbit at his feet and sometimes even a wolf thrown in for good measure. Artistic representations of St. Francis are beautiful, sometimes inspiring. But they often miss the depth of his spirit. Francis was a person who knew the joys and the struggles of being related: to God, to his brothers and sisters and to the world. He left us a legacy of wisdom on doing this thing called life.
Join us for a morning retreat as we walk in Francis' sandals, reliving a few episodes from his life. Through exploration, reflection and discussion, and prayer we'll rescue St. Francis from the birdbath and immerse ourselves in his wisdom.
All are welcome! No registration required.
Theology and Tea
T & T will be on Thursday, January 24th after the 9:00 am Mass. Mark your calendar with the following future T & T dates: February 14 & 28; March 14 & 28 and April 11 & 25. Come and join Friar Mark for some time to ponder and enjoy our relationship with God. The sessions are open to all parishioners and their friends.
Stewardship: A Way of Living
January 6th, 2019 Offertory Collections
Thank you for your generous donations.
Regular Collection …………………………. $ 6,403.00
Pre-Authorized Giving …………………… $ 2,926.00
Donate Now …………………………………. $ 328.00
January 13th Offertory Collections
Regular Collection ………………………... $ 7,335.25
Initial Offering ……………………………… $ 2,018.80
Second Collection:
February 2 and 3 ~ Maintenance Fund
2019 Offertory Envelopes
The envelopes for the first quarter were mailed out in December. If you have not received your envelopes yet, please complete the form located at the back of church. We will follow-up with our provider.
In the meantime, please use one of the especially marked envelopes at the back of the church. Please be sure write your name and address on the envelop so that we can record your donation correctly. Please do not use any old or previous years' envelopes because some numbers were reassigned. For those who are receiving special collections only, they have been mailed out last week.
Franciscan Mission Collection
Today, January 19 – 20, we will welcome Fr. Michael Heine, OFM Conv., to St. Bonaventure to share with us the experience and needs of our Franciscan Mission. Fr. Michael served in high school ministry as well as served as Director of the Shrine of St. Anthony in Ellicott City, Maryland. Fr. Michael also served as a missionary in Jamaica where he oversaw schools, clinics, and remote parishes. Fr. Michael is currently the Vicar provincial of the Our Lady of the Angels Province of Franciscan Friars Conventual, a leadership position that has taken him most recently to England, Ireland and Brazil.
The second collection on January 19 – 20 will be for the Franciscan Missions. We ask that you share generously the gifts that God has given to you!
Thank you for your prayers and support.