THE FRANCISCAN CHURCH OF ST. BONAVENTURE
1300 Leslie St., Toronto, ON., M3C 2K9; Tel.416-447-5571;Fax:416-447-4082
Website: www.st-bonaventure.ca
YOU ARE ALWAYS WELCOME AT ST. BONAVENTURE!


GROWING IN SPIRIT, COMMUNITY AND SERVICE
Inspired by St. Francis we seek to live and proclaim the gospel in our daily lives,responding to
the spiritual hungers of the community and becoming an oasis of peace, prayer and service.
April 22, 2018
Fourth Sunday of Easter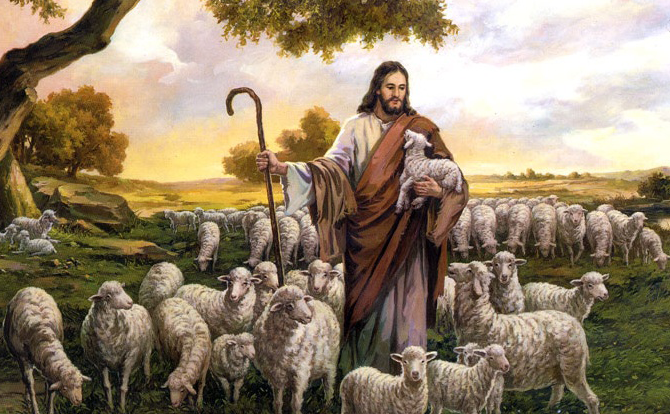 Confidence
On the Fourth Sunday of Easter, traditionally called Good Shepherd Sunday, we encounter the Good Shepherd who is really the beautiful or noble shepherd who knows his flock intimately. Jesus knew shepherds and had much sympathy for their lot and he relied on one of his favourite metaphors to assure us that we can place our confidence in him. For those who heard Jesus claim this title for himself, it meant more than tenderness and compassion; there was the dramatic and startling degree of love so great that the shepherd is willing to lay down his life for his flock.
Unlike the hired hand, who works for pay, the good shepherd's life is devoted to the sheep out of pure love. The sheep are far more than a responsibility to the good shepherd – who is also their owner. They are the object of the shepherd's love and concern. Thus, the shepherd's devotion to them is completely unselfish; the good shepherd is willing to die for the sheep rather than abandon them. To the hired hand, the sheep are merely a commodity, to be watched over only so they can provide wool and mutton.
Sometimes, it seems that followers are expected to put the needs of the leader first. The people are the means to an end: the leader's pleasure. Does it not often seem that shepherds are first, sheep last? The emphasis in today's readings is on the sheep and their welfare. The shepherd is the means to ensure the end: the well-being of the flock. Sheep are first, shepherds last. John's Gospel portrays Jesus as the life-giving shepherd.
Words Made Flesh Vol. II: Biblical Reflections for Year B. Fr. Thomas Rosica, CSB
Ministry with Maturing Adults
Living out Spirituality in the Second Half of Life
Tuesday Mornings Coffee and Treats 9:30- 11:30 am in the Francis Room
All are Welcome! St. Bonaventure's Parish, 1300 Leslie St.
April 24 Special Event with luncheon (9:30 – 12:30)
There is no monetary cost for this program. For more information maureen@st-bonaventure.ca or call at
416-447-5571 ext. 550
Healing Life's Hurts Through Forgiveness
Wednesdays, 1:00 – 2:30 pm in the Bonaventure Room
Ginny Doty will be offering a new program: Healing Life's Hurts Through Forgiveness. The program starts April 18th to May 30th. Early registration is encouraged, as space is limited. Program will be offered to neighbouring Catholic parishes. To register and for more information contact: Ginny at 416-447-5571 ext. 560
Volunteer Appreciation Week
April 15 - 21, 2018
Celebrating the 30,000 volunteers serving in 225 parishes across the Archdiocese of Toronto!
THANK YOU FOR ALL THAT YOU DO!
We always thank God, the Father of our Lord Jesus Christ, when we pray for you, for we have heard of your faith in Christ Jesus and of the love you have for all the saints. (Colossian 1:3-4)
Unauthorized Handouts and Posting in the Parish
We recently had unauthorized distributions of pamphlets and advertisements in the parking lot and unauthorized posting in the Church bulletin board. Parish sanctioned events, materials and information are not promoted this way. Persons, businesses, and organizations wishing to advertise to our parishioners must speak to Fr. Peter or Connie Durante in order to receive permission to do so. Thank you for your cooperation!
Requests for Baptism Records
To request a copy of your child's baptism record, contact the Ministry Centre by phone or email nimfa@st-bonaventure.ca. Provide your child's full name, date of birth and approximate date of Baptism. You will also need to provide photo identification such as a copy of your driver's license or passport.
Requests need to be made 5 days in advance of the time that the record is needed. In keeping with
the policies of the Archdiocese of Toronto, we follow civil legislation pertaining
to privacy and access to information.
Stewardship: A Way of Living
April 15 Offertory Collections
Thank you for your generous donations.
Regular Collection: $ 4,509.05
Easter Sunday Offering: $300.00
Pre-Authorized Giving: $ 2,926.00
Donate Now: $ 328.00
Second Collections:
May 6 – The Pope's Pastoral Works Offering
May 27 – Third ShareLife Sunday
Gifts of Securities
Do you have securities that have gone up in value? You can now make your parish offertory and special collections gifts using securities (stocks, mutual funds, bonds). You will not have to pay any capital gains on securities gift and you will get a tax receipt for the full amount. For more information contact the Development Office of the Archdiocese of Toronto at 416-934-3411 or email: development@archtoronto.org
Theology and Tea
Next T and T will be on Thursday, May 3rd after the 9:00 am Mass. The sessions are open to all parishioners and their friends.
2018 Offertory Envelopes
2018 Offertory Envelopes have been moved to the Ministry Centre.We made some changes to some of the envelope assignments so your number may be changed.Please write your name, address and telephone number on your envelop. Thank you!

Living the Gospel by supporting ShareLife agencies
"As we begin our ShareLife campaign, we are encouraged to "Live the Gospel" in all that we do. How do we demonstrate that in our community? Living the Gospel may mean helping single mothers to care for their newborn children, or being available to families facing difficulties, or welcoming refugee families to our community. For more than 41 years, countless individuals have experienced this compassionate care offered by our agencies. Please support our annual archdiocesan appeal during this Lenten season!"
~ Thomas Cardinal Collins, Archbishop of Toronto
ShareLife is the official annual charitable appeal of the Archdiocese of Toronto, raising funds to help support a large family of Catholic Agencies. Annually, ShareLife social service agencies provide services to many people locally and assist countless more in developing countries around the world. They feed the hungry, shelter the homeless, protect the meek and care for the sick. In 42 municipalities, in 225 parishes, and in more than 20 languages, those in need received professional, faith-informed and compassionate care as a result of our generosity.
March 18 is ShareLife Sunday. Please give generously.
To Support St. Clare Inn...
The Loblaws group of companies admitted to participating in a price fixing scheme relating to packaged bread. In addition to cooperating into the issue, Loblaws has offered a goodwill gesture in the form of a $25 gift card to anyone who has purchased bread from Loblaws, Supercenters, No Frills, Zehrs, Fortinos, Valu-mart etc. over the last 14 years. Registration for the gift cards runs from January 8th to May 8th at www.loblawcard.ca.
Since then, there has been much press about the gift card with a push for individuals to register for the $25 gift card and donate it to a charity. This desire to pass on this goodwill gesture to charities has gained considerable traction over the last month.
Which brings me to St. Clare Inn. Our weekly groceries for residents are purchased at No Frills, which is part of the Loblaws group of companies. Should anyone qualify to register for the $25 Gift Card and are looking for a local charity to support, St. Clare Inn would gladly accept your donated card and use the funds to purchase food at No Frills for the residents of St. Clare Inn. Thanks!
~ Friar Tom Purcell