THE FRANCISCAN CHURCH OF ST. BONAVENTURE
1300 Leslie St., Toronto, ON., M3C 2K9; Tel.416-447-5571;Fax:416-447-4082
Website: www.st-bonaventure.ca
YOU ARE ALWAYS WELCOME AT ST. BONAVENTURE!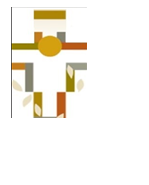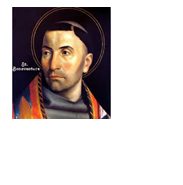 GROWING IN SPIRIT, COMMUNITY AND SERVICE
Inspired by St. Francis we seek to live and proclaim the gospel in our daily lives,responding to the spiritual hungers of the community and becoming an oasis of peace, prayer and service.
September 24, 2017
Twenty-fifth Sunday in Ordinary Time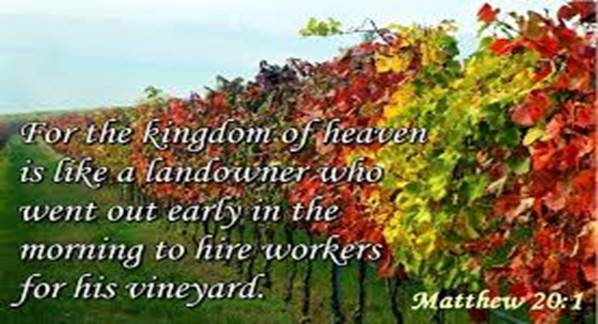 Matthew 20 1-16
The people who came late had the same right to a decent life as those who had worked all day, so they are all treated equally. Nothing is taken from anyone, but all are treated in accord with their dignity, their right to a decent life. Such is God's justice.
"My thoughts are not your thoughts, nor are your ways my ways, says the Lord." Perhaps we would have a better world if we were to adopt some of God's ways. After all, "the Lord is just in all his ways," and that is something which cannot be said of all our ways.
"Father, guide us according to your law of love." Free us from our law of vindictive justice.
Biblical justice is more comprehensive than
subsequent philosophical definitions. It is not
concerned with a strict definition of rights and
duties, but with the rightness of the human
condition before God and within society. Nor is
justice opposed to love; rather, it is both a
manifestation of love and a condition for love to grow.
U.S. Bishops, Economic Justice for All, 1986:39; Gerald Darring
Published in book form, To Love and Serve: Lectionary Based Meditations, by Gerald Darring.
Celebrate the Feast of St. Francis of Assisi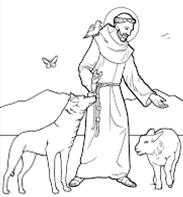 Blessings of Animals
Sunday, October 1st, 2:00 pm,
in the courtyard of the Church.
One of the most popular celebrations surrounding the
feast of St. Francis is the annual blessing of animals.
Come and bring your pets for a special blessing.
Transitus Service. This year the Transitus Service will be held at St. Philip Neri Chruch, 2100 Jane Street on Tuesday, October 3rd at 7:00 pm. We invite you to join the Friars and Secular Franciscans as we celebrate the ancient custom of recounting the life and death of St. Francis of Assisi.
Feast of St. Francis.
Wednesday, October 4th.
Come and celebrate with the Friars at the 9:00 am Mass.
Interfaith Prayer Service for Peace: "Name(s) of God" in Different Faith Traditions. Thursday, October 5th, 7:00 pm at St. Philip Neri Parish, 2100 Jane Street. Join Bishop Robert Kasun and other religious leaders for this prayer service. For more information and to RSVP please contact Vivian Kwok vkwok@archtoronto.org 416-934-3440 ext. 527 or Br. Alan Gaebel alan.gaebel@gmail.com 416-241-3101 ext. 245
Becoming Catholic (RCIA)
For those not baptized, those baptized in another Christian tradition and those baptized Catholic but have not completed their initiation, a process of becoming Catholic involving prayer, inquiry and study is available. Please contact Greg, our Lay Pastoral Associate.
St. Bonaventure's Ministry with Maturing Adults presents a new six-part series.
"Spirituality and Healthy Vibrant Living in the Second Half of Life"
Programme Topic: It's All God, Anyway: Poetry for the Everyday, Jennifer (Jinks) Hoffmann, Poet and Author
Tuesday, September 26th, 9:45 to 11:30 am in the Francis room. All are welcome! Please invite your friends and neighbours to share in this new series of presentations.
There is no monetary cost for this program. For more information maureen@st-bonaventure.ca or phone 416-447-5571 ext. 550
Liturgy of the Word with Children: Sundays at the 10 am Mass
Through the dedication of volunteers, we are fortunate to be able to invite children to celebrate the Liturgy of the Word in a way in which they can participate. We believe that the Lord is present when we gather for worship and when the Scriptures are proclaimed. By providing a separate celebration of the Liturgy of the Word with children, we help our youngest parishioners encounter the Lord, interiorize the message of the Sunday Gospel, and pray together. We hope that this age-appropriate experience of the Liturgy will lead our children into full, active and conscious participation during the Mass, to which we are called.
We provide this ministry to children from age 3 (preschool) to age 9 (grade 4).
Volunteers are needed! Are you a person of prayer? Do you seek the Lord within the Scripture? Are you at ease in the presence of children? Are you comfortable in front of a group? Do you have a couple of hours once or twice a month to prepare for the Liturgy of the Word? Are you a young person that would like to read the scriptures, sing, or play an instrument? Are you able to gently assist with keeping a prayerful atmosphere? Then, you may have the gifts necessary to serve in a variety of ways within this ministry. Please contact Greg at the Ministry Centre 416-447-5571 ext. 258, to learn more. Volunteer Screening is mandatory.
Preparation for First Reconciliation and First Holy Communion
Roman Catholic children are prepared to celebrate their First Reconciliation (Confession) and First Communion around the age of 7. If you are the parent of a 7-year old child (in grade 2), or older, who is baptised Roman Catholic, then it will be important for you to attend one of the following parent information meetings in the Main Hall of the parish centre to learn about the preparation process, registration, and celebration of these Sacraments:
Sunday, September 24th from 2 to 3:30 pm,

or

Tuesday, September 26th from 7 to 8:30 pm
Preparation for Confirmation
In September 2015, the age to prepare for and celebrate Confirmation was lowered to age 12 in the Archdiocese of Toronto. If your child is baptised Roman Catholic and 12 years old (grade 7) or older, then it will be important for you and your son or daughter to attend one of the following parent-youth Confirmation information sessions held in the Parish Centre.
Wednesday, October 11th from 7:00 to 8:30 pm, or

Sunday, October 15th from 1:15 to 2:30 pm
Volunteers Needed!
We have a number of people who are not able to come to church and miss being able to receive Our Lord. These people who live in their homes or in the nursing/senior residences near the church. If you are able to give or spend 15-30 minutes of your time to bring them Holy Communion, please contact Friar Peter at the Ministry Centre 416-447-5571 ext. 233. Volunteer screening is required.
Unauthorized Handouts and Posting in the Parish
We recently had unauthorized distributions of pamphlets and advertisements in the parking lot and unauthorized posting in the Church bulletin board. Parish sanctioned events, materials and information are not promoted this way. Persons, businesses, and organizations wishing to advertise to our parishioners must speak to Fr. Peter or Connie Durante in order to receive permission to do so. Thank you for your cooperation!
Parking Lot Issues!
Please refrain from parking in the Fire Route in front of the church and in the school area. Emergency vehicles need to have access to these areas. Also, Wheel-Trans can refuse to drop people off or pick them up in fear of getting trapped in the traffic. Please do not park in the accessible parking spots unless you have a proper permit. Anyone parking illegally can be ticketed and fines are severe. There is ample parking in the back of the property. Notices will be placed on vehicles that are improperly parked and the police will be notified. Thank you for your cooperation!
Requests for Baptism Records
To request a copy of your child's baptism record, contact the Ministry Centre by phone or email nimfa@st-bonaventure.ca. Provide your child's full name, date of birth and approximate date of Baptism. You will also need to provide photo identification such as a copy of your driver's license or passport.
Requests need to be made 5 days in advance of the time that the record is needed. In keeping with
the policies of the Archdiocese of Toronto, we follow civil legislation pertaining
to privacy and access to information.
Stewardship: A Way of Living
September 17 Offertory Collection
Thank you for your generous donations.
Regular Collection: $ 9,527.25
Maintenance Fund Collection: $ 3,828.00
Donate Now: $ 328
Pre-Authorized Giving: $ 2,906
Second Collection:
October 1st – St. Clare Inn Offering
CWL Annual Flea Market
The CWL will be holding the annual flea market, our major fundraising project, in the Parish Hall from 9:30 am on Saturday, October 21st. Donations will be gratefully accepted on October 19 & 20. Now is the time to consider clearing out those unused items. Details to follow later.