April 23, 2017
Second Sunday of Easter
Divine Mercy Sunday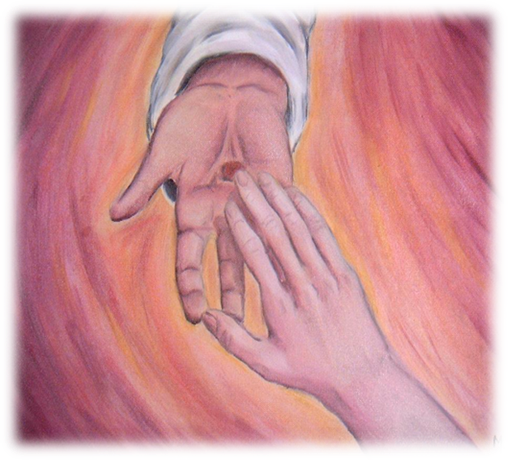 The disciples were again in the house, and Thomas was with them. Although the doors were shut, Jesus came and stood among them and said, "Peace be with you." Then He said to Thomas, "Put your finger here and see my hands. Reach out your hand and put it in my side. Do not doubt but believe." Thomas answerd Him, "My Lord and my God!"
Jesus said to him, "Have you believed because you have seen me? Blessed are those who have not seen and yet have come to believe."
~John 20. 26-29
Jesus says these simple words: "peace be with you." Instantly their fear and dread are gone and in their place − joy.
Peace, inner peace, is the first gift the resurrected Jesus offers his disciples. Nourished by the peace of the Lord, this group of ordinary people will soon change the world.
And we, also ordinary women and men, also full of anxieties and disappointments, confused about the present and uncertain about the future, are offered the same gift. Jesus is saying to us, too, "Peace be with you." We need only to open our hearts to receive it. ~ Patrick Gallagher, Toronto, ON
Divine Mercy Sunday
St John Paul II designated the Sunday after Easter as the Feast of Divine Mercy Sunday, all are welcome to join in Divine Mercy prayers with Friar Boniface.
April 23rd at 3:00 pm in the church.
Divine Mercy Sunday
The Chaplet of the Divine Mercy
(recitation on ordinary rosary beads)
Our Father

….

Hail Mary

….

The Apostles' Creed
On the Our Father Beads, you will say the following:
Eternal Father, I offer you the body and Blood, Soul and Divinity of Your dearly beloved Son, Our Lord Jesus Christ, in atonement for our sins and those of the whole world.
On the Hail Mary Beads, you will say the following:
For the sake of His Sorrowful Passion, have mercy on us and on the whole world.
In conclusion Three Times recite:
Holy God, Holy Mighty One, Holy Immortal One, have mercy on us and on the whole world.
(From the Diary of St. Faustina-1 pg.197) Imprimatur: †Joseph F. Maguire Nov. 17, 1979, Bishop of Springfield, Mass.
Feast Day of Our Lady of Good Counsel
Come and pray with the CWL on Wednesday, April 26th at 9:00 am Mass to celebrate the Our Lady of Good Counsel feast day, patroness of the Catholic Womens' League.
Funeral Preparations
The norm for a Catholic who has died is to have a funeral mass celebrated in the church. The community prays that their soul will be received into the heavenly banquet of heaven.
We have Funeral Preparation Guides in the Parish Office for anyone who may wish to ensure a Catholic funeral mass. After completing the guide, present a copy to the Parish Office to keep on file and give a duplicate copy to whoever may be handling your affairs.
2017 Baseball Season - Important Dates
| | |
| --- | --- |
| Registration Starts | March 4 |
| Registration Deadline | March 31 |
| Evaluation Day | April 18 &19 |
| First Game Week | April 24 |
| Playoff Week | June 19 |
| Finals Day | June 24 |