THE FRANCISCAN CHURCH OF ST. BONAVENTURE
1300 Leslie Street, Toronto, ON., M3C 2K9
Telephone: 416-447-5571 Fax: 416-447-4082
Website: www.st-bonaventure.ca
YOU ARE ALWAYS WELCOME AT ST. BONAVENTURE
GROWING IN SPIRIT, COMMUNITY AND SERVICE
Inspired by St. Francis we seek to live and proclaim the gospel in
our daily lives, responding to the spiritual hungers of the community
and becoming an oasis of peace, prayer and service.
December 9, 2018 ~ The Second Sunday of Advent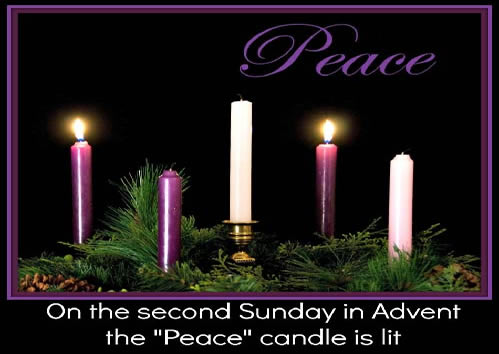 Joyful Anticipations
Advent is a time of joyful anticipation. It is time, the prophet Baruch says, "to take off your robe of mourning and misery," for God is leading his people "with his mercy and justice for company." God's people "are wrapped in the cloak of justice from God," and they "will be named by God forever the peace of justice."
Paul, too, speaks of joyful anticipation, of waiting for "the day of Christ Jesus." He encourages the Philippians to grow in "love, understanding, wealth of experience, clear conscience, and blameless conduct," and he concludes with a wish: "that you may be found rich in the harvest of justice which Jesus Christ has ripened in you."
The message of John the Baptist is to prepare the way for the coming of Christ, to make straight the windings and to make smooth the rough ways.
We need a "baptism of repentance," a cleansing from the old ways of "greed and darkness" and a commitment to a new way of living. We need to challenge the wisdom of the world in the way it was challenged by that prophet in the desert.
While we are warned that it profits a man nothing if he gains the whole world and lose himself, the expectation of a new earth must not weaken but rather stimulate our concern for cultivating this one. For here grows the body of a new human family, a body which even now is able to give some kind of foreshadowing of the new age.
Vatican II, Constitution on the Church in the Modern World,1965:39.
Published in book form, To Love and Serve: Lectionary Based Meditations, by Gerald Darring
And Now, A Word from Our Pastor
Thank you to our children (and their parents and grandparents) who are preparing a warm bed for Jesus. By dropping a piece of straw into the manger each week as a sign of some good they have done, our young parishioners are not only making a comfortable place for the Lord in the manger but also in their hearts.
Last week, after the Liturgy when I was explaining about the straw representing the children's goodness, an adult said to me: "Friar, if it were me going up to the manger, I'd have to take straw out." We laughed over the joke, but it made me think.
How easily we focus on our faults and how difficult it is for us to focus our goodness. We grow by admitting and praying and working to improve. But growth also comes by acknowledging and celebrating and enjoying the good we do and the good we are. In the evening when we examine our consciences maybe we could include not just our stumblings but also our successes in Gospel living. I believe that God pays more attention to the latter than to the former and that He rests as comfortably in our adult hearts as he does in the hearts of His little ones.
Congratulations to Gabrielle Ramos who was given new birth by water and the Holy Spirit and welcomed into God's Holy People through Baptism.
~ Fr. Dennis
Did You Know?
Advent is about Christmas, right? Right! We're preparing to commemorate the Birth of the Savior. But Advent is about something more too. Listen to the introduction of the Missal, the prayer book of the Church:
"The season of Advent has a two-fold character. It is a time of preparation for Christmas, when the first coming of God's Son to us is recalled. It is also a season when minds are directed to Christ's Second Coming at the end of time. It is a season of joyful and spiritual expectation."
A time to prepare to recall and celebrate Christ's first coming at Bethlehem. But also, a time to ponder and celebrate the promise of Christ's Second Coming at the end of time. What a rich and image-filled time Advent is. As darkness comes sooner and sooner with each passing day, we gather each day to kindle the candles of our Advent Wreaths. They proclaim our faith in the One born to be the Light of the World and the one Who will scatter darkness forever when He returns in glory. As the chill of winter wraps around us, we assemble for Liturgy to feel the warmth of the One Who was, Who is and Who is to come. During the weeks of Advent, we keep a long vigil together. A vigil of mystery in which we wait for the One Who has already come and Who will come again.
During the first portion of Advent we focus our Scripture readings and prayers at the Liturgy on the triumphant coming of Jesus at the end of time. During the final portion of the season, we shift our attention more intensely in Scripture and prayer to the commemoration of the humble coming of Jesus in Bethlehem. Again, the introduction to the Missal teaches us:
"The days from December 17 to 24 are more directly oriented to the preparation for the Lord's Birth."
At Mass, listen to the Opening Prayers, the Scripture readings, the Prefaces (just before the Holy, Holy) during the Advent season and see if you can feel their shifting moods, their changing focus on the two comings of Jesus. Revel in the richness, be enveloped in the mystery. The God Whose Birth we will celebrate is the God Who is already with us today and the God Who promises to return to us tomorrow.
Advent is about Christmas, right? Right. But Advent is about something more too.
~Friar Dennis J. Mason
A PRAYER FOR THE SECOND SUNDAY OF ADVENT
Jesus, you came among us with the irresistible power of a baby, requiring both our hands and captivating our whole hearts.
Help us to cast aside the sin and brokenness that we cling to, so we might be ready to hold you when you come again. Amen.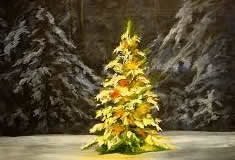 Christmas Tree Blessing
God of all creation, we praise you for this tree which brings beauty and memories
and the promise of life to our home. May your blessing be upon all who gather
around this tree, all who keep the Christmas festival by its lights. We wait for the coming
of the Christ, the days of everlasting justice and of peace.
You are our God, living and reigning, for ever and ever. Amen.
St. Bonaventure's Ministry with Maturing Adults
A Spirituality for the Second Half of Life
Embracing Wholeness and Challenge
2019 Winter Program St. Bonaventure's
Ministry with Maturing Adults
Tuesday Mornings; Coffee & Treats 9:30 – 11:45 am
January 15 Belonging and Community; Exploring the wisdom and radiance of Jean Vanier as a
guide for healthy communities; Mary Bastedo, Daybreak (retired)
January 29 A Contemplative Retreat; Draw aside to meditate with Franciscan wisdom;
Friar Dennis J. Mason
February 12 Brain Health, Dementia & Alzheimer's; with Nicole Gardner, Public Education
Coordinator, Alzheimer's Society of Toronto
February 26 Story-telling! Reveals our Inner Beauty; With Gisela Cote, Ginny Doty,
Moira Mckeown, and Maureen McDonnell
March 12 Reclaiming the Christian Tradition of the Art of Dying; Exploring the work of Sister
Nula Kenny, Maureen McDonnell
March 19 Karios Blanket Exercise Workshop; "The goal is to build understanding about our
shared history as Indigenous and non-Indigenous peoples in Canada through
pre-contact, treaty making, colonization and resistance."
April 2 The Spiritual Journey; Divine Love drawing us into Prayer, Contemplative Practice and
Service; Maureen McDonnell
There is no monetary cost for this program. For more information: maureen@st-bonaventure.ca or call Maureen McDonnell at 416-447-5571 Ext. 550
Theology and Tea
Next T & T is on December 20th, 9:30 am in the Francis Room.
Advent is a season of anticipation and a time to ponder the Mystery of the Incarnation of the Holy One into the world and into our lives. Friar Mark Steed and Maureen McDonnell began the exploration of the Advent season with a focus on the inspirational Magnificat, "My soul magnifies the Lord." All are welcome!
"Giving Tree"
Bring the spirit of Christmas to someone in need. We invite you to take a gift tag from our 'Giving Tree'. The back of the gift tag will indicate the type of gift needed. We appreciate you returning your gift on December 15/16 at the latest.Your gifts will support those who seek help through The Community Share Food Bank, the City Street Outreach, residents at Thompson House Retirement Home, andGreenview Lodge Nursing Home.
Advent Days of Confessions
From December 17-22, 2018, each parish in the Archdiocese of Toronto will be holding a Day of Confessions. This week, let us make the journey into the heart of our relationship with God. Take a long, loving look at the ways of God calls us to grow. Take this challenge and hold it in readiness for the rich blessing that is manifest in the Sacrament of Reconciliation.
Confession here at St. Bonaventure will be on Tuesday, December 18th from 9:30 to 10:30 am; 12:00 noon to 1:00 pm
and 7:00 to 8:00 pm
Days and Times of Confessions in other parishes near us:
Our Lady of Perpetual Help, 78 Clifton Road
December 11: 11:00 am to 12:00 pm
12:30 to 1:30 pm
7:30 to 8:30 pm
St. Timothy's Parish, 21 Leith Hill Road
December 17: 9:00 am to 12:00 pm
5:00 to 8:00 pm
St. Edward the Confessor Parish, 75 Churchill Ave
December 18: 9:00 to 10:00 am
2:00 to 4:00 pm
7:00 to 8:00 pm
Blessed Sacrament, 24 Cheritan Avenue
December 20: 9:00 am to 1:00 pm
5:00 to 8:00 pm
Christmas and New Year Mass Schedule
Fourth Sunday of Advent
Saturday, December 22nd - Vigil Mass, 5:00 pm
Sunday, December 23rd - Regular Sunday Mass
8:30 am, 10:00 am and 12:00 noon
The Nativity of the Lord - Christmas Eve
Monday, December 24th
4:00 pm, 7:00 pm and 10:00 pm
Christmas Day
Tuesday, December 25th - 10:00 am and 12:00 noon
Boxing Day
Wednesday, December 26th - No Morning Mass
Feast of the Holy Family
Saturday, December 29th -Vigil Mass, 5:00 pm
Sunday, December 30th - Regular Sunday Mass
8:30 am, 10:00 am and 12:00 noon
Mary, the Holy Mother of God
New Year's Eve
Monday, December 31st -5:00 pm
New Year's Day
Tuesday, January 1st, 2019 -10:00 am only
Stewardship: A Way of Living
December 2nd Offertory Collections
Thank you for your generous donations.
Regular Collection:…………………………. $ 8,148.30
Maintenance Fund Offering ……………. $ 3,728.25
Pre-Authorized Giving:…………………… $ 2,926.00
Donate Now:………………………………….. $ 328.00
Second Collection:
December 25 – Christmas Offering
_____________________________________________________________________________
Elaine Loxton Funeral Information
Funeral Service: St. Bonaventure Church
Saturday, December 8 at 10:30 am
_____________________________________________________________________________