Masses Resume June 11, 2021
Daily Mass: Monday to Friday at 9:00 AM
Saturday at 5:00 PM
Sunday: 10:00 AM and 12:00 Noon
To Register, click on the images below:

Statement from Cardinal Thomas Collins, Archbishop of Toronto re Discovery of Children's Remains at former Kamloops Residential School
Click on the link below to access the the Cardinal's letter & for a list of valuable resources.
https://www.archtoronto.org/en/outreach/news/archdiocesan/statement-from-cardinal-thomas-collins-archbishop-of-toronto--re-discovery-of-childrens-remains-at-former-kamloops-residential-school/

Pastoral Letter on the Sacred Heart of Jesus
"And so I am inviting all Catholics in this archdiocese, in all our families, religious communities, parishes, hospitals, schools, and institutions, to focus on the significance of this sign of the sacrificial and compassionate love of Christ, the Sacred Heart of Jesus, and to make devotion to the Sacred Heart a vital part of our life of faith." - Cardinal Thomas Collins
https://www.archtoronto.org/en/offices-and-ministries/sub-sites/sacred-heart/sacred-heart-jesus/pastoral-letter/
-A PEEK AT THE APOCALYPSE-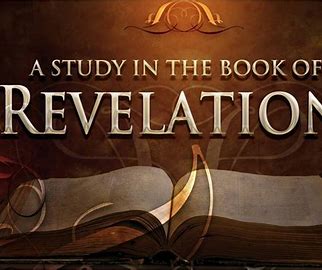 -BINGING WITH BONAVENTURE-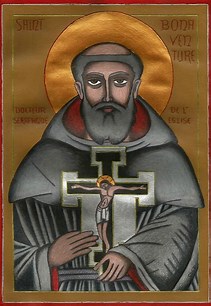 -WATCH OUR MASSES ONLINE-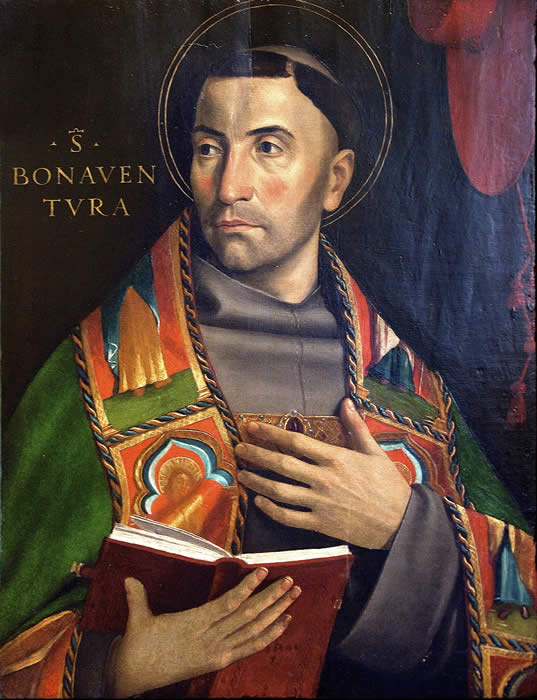 -BONNIE NEWS BULLETIN-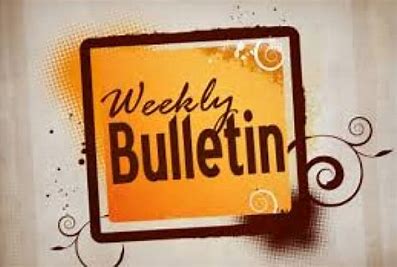 -MASS CARDS-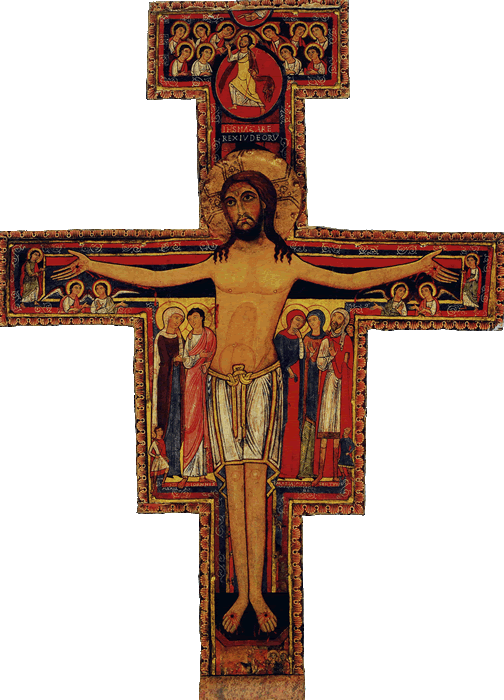 A WORD FROM THE PASTOR
Praised be Jesus Christ. Now and forever. Amen.

Praised be Jesus Christ. Now and forever. Amen. Mary, Virgin Most Prudent, Pray for Us.
Thank You and God bless. We keep one another in prayer.
With love and a prayer
Fr. Dennis
We may pray this Act of Spiritual Communion when we are not able
to be physically present at Mass:
My Jesus, I believe that you are present in the Most Holy Sacrament. I love you above all things, and I desire to receive you into my soul. Since I cannot at this moment receive you sacramentally, come at least spiritually into my heart. I embrace you as if you were already there and unite myself.
If wholly to you. Never permit me to be separated from you. Amen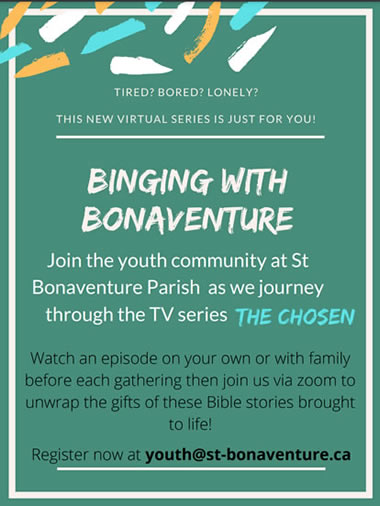 St. Bonaventure CWL invites all parishioners and CWL members, their families and friends to join us for a very special presentation by Sister Priscilla Solomon, on Monday, June 21, 2021 at 7:00 p.m. This virtual event has been organized by the Toronto Diocesan Council of the CWL in Recognition of National Indigenous Peoples Day. Sister Priscilla Solomon, CSJ, a Sister of St. Joseph of Sault Ste. Marie, is an Ojibway of the Anishinabek Nation and her work in the Faith and Justice Office of her Congregation is focused on Indigenous rights, right relations, healing and reconciliation as well as on ecological justice issues. Sister Priscilla's presentation will center on Conversion, Reconciliation and Transformation. To register for this important virtual event, please contact
Céline Massaroni at cmassaroni10@sympatico.ca by Wednesday, June 17, 2021.

Ministry With Maturing Adults - 2021 Summer Session, Tuesdays, 10:00 am to 11:30 am
Mark Your Calendars!
June 22
Humour and Laughter, Presented by: Viola Athaide

July 6
Gardens to Inspire and Nature to Explore in Toronto
Guest Speaker: TBA

July 20
Exploring Summer Cooking and Summer Sips to Savour
Presented by: Richard Strange & Curtis McDonnell

August 3
A Guided Tour of Slovenia & Travel Plans, Presented by: Sonya Urbanc

August 17
Creativity: Photography, Sculptures & Crafts
Guest Speaker: TBA
For more information contact Host: Maureen McDonnell at: maureen@st-bonaventure.ca
Check the "Bonnie News Bulletin" for registration to each session, email: MMA@st-bonaventure.ca

ShareLife Sunday is June 19/20
Living the Gospel by providing for those in need
"Without you, ShareLife could not fulfill its mission to live the Gospel by providing for those in need. Together we are making a real difference! My prayer is that we may continue to respond to God's love by going forth from ourselves to seek the good of others."
— Cardinal Thomas Collins

Please make your sacrificial gift through the parish office or sharelife.org Please give generously.
The Society of St. Vincent de Paul


"Love God, serve God; everything is in that"

When we bless others through charity, not only do we turn our righteous thoughts into righteous actions, we use the blessings that God has given us - blessings are His in the the first place - to bless others. Author Unknown

Our Society endeavours to help the less fortunate in our area with grocery gift cards and a listening ear when they call for help:

416-447-5571 Ext. 570. But our ability to respond also depends upon your continuing generosity and concern. Please take a moment to review the ways in which you can donate. May God bless you for your kindness.


Please continue to give as you can, when you can, and if you are aware of someone in our area in need of our help, please refer them to us at:
416-447-5571 Ext. 570. Thank you!

Please consider making a donation securely online through CanadaHelps live link

https://www.canadahelps.org/en/charities/society-of-st-vincent-de-paul-st-bonaventure-conference/

Or by cheque made payable to Society of St. Vincent de Paul and mail to: Society of St. Vincent de Paul
c/o St. Bonaventure Church
1300 Leslie St. Toronto, ON M3C 2K9

Casseroles for the the Good Shepherd Ministries
Dear Casserole Makers, given the current restrictions, we are unable to accept casseroles at the Ministry Centre. Please consider making a monetary donation online. Although its not the same as preparing the food yourself, your donation will allow these vital programs to continue. For more information on how you can help, click below.
https://www.goodshepherd.ca/how-you-can-help/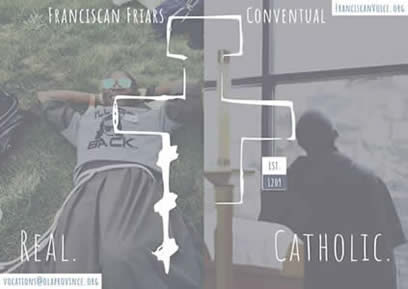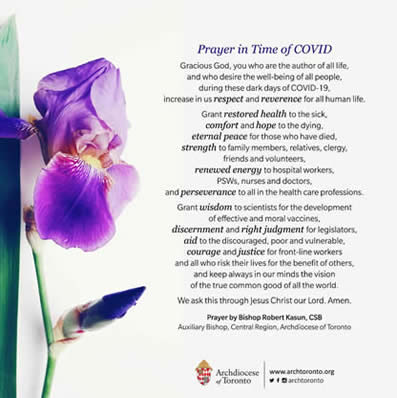 The Friars will celebrate Mass privately every day for the intentions of the parishioners.
The church and the office will be closed during the health emergency.
416.447.5571
Office Hours

Monday: Closed
Tuesday: Closed
Wednesday: Closed Thursday: Closed
Friday: Closed
Saturday: Closed
Sunday: Closed

Pastor:
Fr. Dennis J. Mason, OFM Conv.
Associate pastor:
Fr. Peter Knaapen, OFM Conv.
Parish Manager:
Connie Durante
Lay Pastoral Associate:
Gregory Beath
Minister with Maturing Adults:
Maureen McDonnell
Pastoral Assistant:
Nimfa Chua
Deacon:
Rev. Mr. Sal Badali
In case of a life and death situation, call the Friars
at 416-441-0932.
St. Clare Inn Office
1320 Leslie Street,Ste.200
Toronto ON M3C 2K9
416.690.0330
Franciscan Ministries
1320 Leslie Street, Ste. 200
Toronto ON M3C 2K9
416.690.5611
St. Anthony of Padua
Mission Aid
1320 Leslie Street, Suite 100
Toronto ON M3C 2K9
416.690.9904